Contact Stealth Translations Ltd
---
Graham Gault, Principal
Maghaberry Primary School
It has been important for us to translate some of our policies and guidance into the first languages of our children and families. Stealth Translations has provided a very fast and accurate service for us, which has been acknowledged and greatly appreciated by our pupils and parents.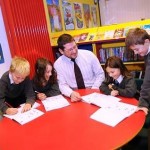 DES Inspectorate
Department of Education and Skills
I just want to pass on some positive feedback – the quality of the translations you completed for us was excellent.
Aiden Carlin
Carlin Solicitors
Carlin Solicitors instruct Stealth Translations because they consistently provide us with first class translations. With Stealth Translations we are assured of a fast, friendly and efficient service which is customer centred and involves the legal team at every stage. Stealth Translations take time to listen because every customer is different and each case has its own demands in terms of funding, urgency or volume. It is our privilege to highly recommend Stealth Translations to the legal profession in Northern Ireland.